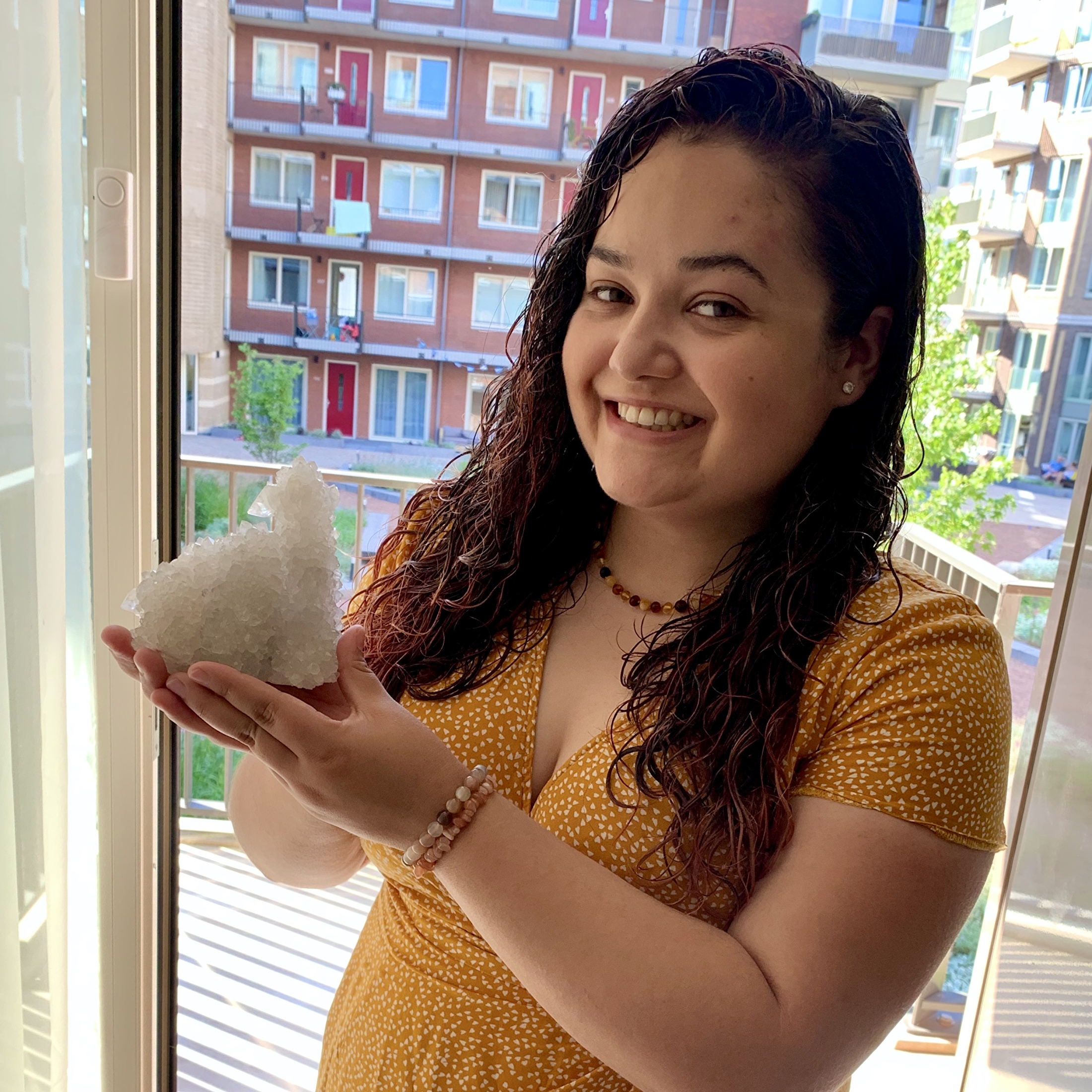 About
Hi there, WELCOME! My name is Ilona, 25 years old, married to my lovely husband Fernando and proud owner of Precious Stones. 
I come from a warm and loving family, one sister, raised Catholic in Amsterdam. My mom is from a small island, called Mauritius (near Madagascar) and my dad was from the Netherlands. My favorite colors are black, yellow and neutrals. Everything in those colors.. sold! I have a few favorites crystals, but Apophyllite and Amethyst stole my heart! 
My interest in spirituality started during my Burnout. I went from working 4 to 5 days a week in kindergarden, to full-time at home. There have been a lot of tears, but I'm so grateful for that period. I had to learn so much, just to stop the world around you and focus on yourself. 
I didn't know crystals can give you such a beautiful support, but after having a magical moment with energy flowing through my body and soul, I knew it. I had to share my experience with the world and let them know how powerful crystals really are. It can be so nice to receive support at a time when your need it the most. 
For this company I had a webshop, based on sustainable products for children. This idea arose from my interest in Rudolf Steiner, the Anthroposophy, which I still find important today. I try to combine the Anthroposophy with my crystal shop. I also try to add more sustainable and natural products to the shop. 
I believe that every customer should be treated with warmth and attention and possibly advised if you wish. Respect for the products, sustainability and fair trade are very important to me. I prefer to buy directly from the country of origin or with maximum one person in the middle. I am very picky when it comes to buying crystals and try to pick everything by hand. 
I run my business on my own. It may take longer before I'm able to ship, but it will be shipped from a big, warm and loving heart. 
To this day I am still learning about spirituality. How grateful I am that I was able to experience this to be where I am now, full of positivity and surrounded with love. I'm glad you know more about me, welcome to my page and I hope I can send your ordered crystals to your loving home soon. 
Love, Ilona